Be among the first riders on Cedar Point's new wing roller coaster on Opening Day, Saturday, May 11, by participating in this special fundraiser for United Way of Erie County. This is a once-in-a-lifetime chance to take flight on GateKeeper, the longest wing coaster in the world, while helping local residents in need. There are only 32 seats available for United Way and they are going fast, so save your spot now!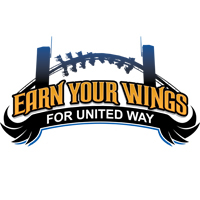 How it works: Just click the 'view all items' button on the left to place your bid for one of the 32 seats. You will be asked to enter your contact and credit card information, but your credit card will NOT be charged until the top 32 bids have been confirmed.
What is included: In addition to the honor of becoming one of the first riders on GateKeeper, the 32 highest bidders receive complimentary admission and early entry to Cedar Point on May 11, complimentary VIP parking, breakfast, a souvenir T-shirt, a coupon for a free copy of the "on-ride" photo, and a commemorative medallion. Winners will also receive a coupon for purchasing additional tickets to Cedar Point on Opening Day for their guests.
May 11 event details:
7 a.m. – Registration will take place at the park's new Guest Services building at the Main Entrance. All participants must be registered by 7:30 a.m. to participate in this VIP event.
7 a.m. – Light breakfast (donuts, cookies, coffee, etc.) at Johnny Rockets restaurant, located on the park's Main Midway
7:30 a.m. – Seat selection will begin starting with the highest bidder.
8:30 a.m. – Welcome remarks with rides to begin afterward.
9-10 a.m. – Participants enjoy early-entry privileges on other signature roller coasters, including Millennium Force and Maverick.
10 a.m. - 10 p.m. - Enjoy a day of fun at the world famous Cedar Point.
Event contact: Pam Brumbaugh, Executive Director of United Way of Erie County: pbrumbaugh.uwec@bex.net.
About Cedar Point and GateKeeper: Cedar Point amusement park/resort, located in Sandusky, Ohio, has been voted the "Best Amusement Park in the World" for a record 15 consecutive years. This summer Cedar Point will debut its 16th roller coaster – GateKeeper! Located at the front of the park, GateKeeper, will forever change the landscape of the Cedar Point Peninsula. This mammoth ride breaks seven world records, including the longest wing roller coaster and the most inversions of any wing roller coaster on Earth! To find out more, please visit cedarpoint.com.
About United Way of Erie County: United Way of Erie County funds 23 programs provided by community agencies as well as six programs of its own which assist Erie County residents in a variety of ways. It is invested in helping children and adults achieve their potential through education, income assistance and physical and mental health services. To learn more about its programs and partner agencies, please visit uwerieco.org.