Live Event
Sat Jul 21, 2018
12PM - 4PM PDT
Armstrong Redwoods State Natural Reserve
17000 Armstrong Woods Rd, Guerneville, CA 95446
Donate Now
Top Bidders
rlc111932

$260

mh0d8464c

$243

wto1950

$222

mkatzlaw

$198

ss257dbc9

$171

ClaraElse

$169

lg1911f3c

$140

goodsforme

$127

ggdc35f97

$110

ktobias

$100
Stewards of the Coast and Redwoods
2018 Gourmet Walk in the Woods Auction

July 5 - 21, 2018

Your support helps provide environmental education and volunteer stewardship programs to over 110,000 park visitors each year!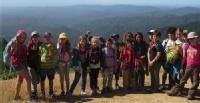 The online portion of the Gourmet Walk in the Woods Auction begins at 8 AM PST on July 4th and ends at 8 PM PST on July 18th.
The auction will then carry over to our annual Gourmet Walk in the Woods event on July 21st.
If you have absentee bids we will assign someone to bid for you at the event.
Our work is as important as ever!
Stewards has been successfully operating Austin Creek State Recreation Area, an exquisite 5,700 acre wilderness area that serves over 300,000 people a year. We are happy to say that Bullfrog Pond Campground and our backcountry sites are now open year-round.


Stewards' Mobile Marine Education Van that we call our "Steward Ship" gives us greater visibility on Sonoma Coast and provide interactive activities for school children and park visitors to learn about the marine environment. Contact us today to reserve your visit!


Our work continues at

Pond Farm Pottery

with plans for an artist in residency program utilizing the on-site guest house – a program that will honor the legacy of world-renowned potter Marguerite Wildenhain.


We are also proud to promote our Forest to the Sea Environmental Education program, a program that exposes school and youth groups to redwood ecology, the intertidal, watershed education, marine science and climate change curriculum as well as opportunities for citizen science and stewardship in our parks.
Our volunteers are a huge part of our success and your donation will help us recruit, train and support their dedication.
Thank you for supporting our work by donating today!
Become a Sponsor
If you or your organization would like to become a sponsor please complete our simple form and we will contact you.