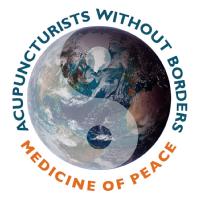 GifGifts that Change the World
Holidays and Change the World!
Shop for the Holidays, Change the World!
Acupuncturists Without Borders (AWB) brings trauma-healing acupuncture to communities affected by disaster, environmental devastation, social injustice, and human conflict. We call this the Medicine of Peace.
In 2018, AWB served tens of thousands of people in California, Puerto Rico, Florida, Toronto, Mexico, Israel, the West Bank, Greece, Nepal, Haiti, Mongolia, and many other communities where people experienced stressful and traumatic events.
Please support AWB's healing work by purchasing holiday gifts for your friends and loved ones! All proceeds benefit AWB's Medicine of Peace programs in the United States and around the world!
Here are a few of the items that you can bid on. More will be added in the next few days so please check back to see new treasures as they are donated!