Auction Links
Top Bidders
jh2a3eee5

$28,000

cl49a87cb

$615

se4919a98

$460

jhf7d6c87

$446

da317e948

$440

rd5baceed

$430

tlf12f6aa

$420

e&07403ef

$350

JimboKC

$340

ICONICBIDDER

$282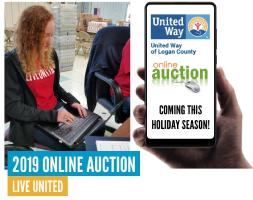 Introducing a new way to give in Logan County!
United Way's Online Auction gives local businesses a chance to put your products and services in the social media spotlight—right in the midst of the holiday shopping season! Here's how it works:
You make a donation of in-kind products or services.
We put them up for bid right here in our 1st Annual Online Auction, which will go live on Cyber Monday (December 2) and run through December 16.
Your items will include a complete description, photo(s), your corporate logo, and a link to your website, MARKETING your products to local and regional shoppers.
All proceeds from the winning bids of auction items will benefit our 2019 United Way campaign.
YOUR gift to the Online Auction helps us win the fight for the health, education, and financial stability of every person in Logan County.
Take advantage of this great opportunity to showcase your products and services by donating to the event!
Click on the "Donate Items" button to the right OR print an Auction Pledge Form to contribute to our catalog.

Give a little and get a lot in return.
Whether you have 1 item or 100 to contribute, your participation is an invaluable part of our fundraising efforts. By donating an item or service directly online, you'll be helping to raise money for our organization, and you'll receive a mention on our site that can link back to your own web page.

Bidders
There is no sales tax on all auction items purchased. But the 3.4% credit card processing fee will be added to your purchase price to cover our costs to effect the transaction.
See how YOUR Auction donation makes a difference!


United Way's partnership with the Bellefontaine Police Department supports Outreach Events throughout town to help law enforcement build relationships and education to fight drugs and reduce crime to keep our community safe. Video and editing thanks to United Way volunteer Jamie Ross.

Click here for more stories and testimonials.