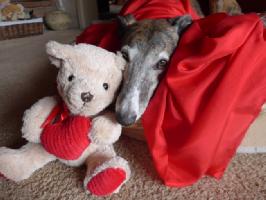 ARIZONA GREYHOUND & ANIMAL RESCUE FUND's auction starts February 1st and runs until February 28th.
ARIZONA GREYHOUND & ANIMAL RESCUE FUND, otherwise known as AGR, is auctioning off a number of fun and unique items to raise money for our organization!
You can still show your support by Donating Items for our catalog. Whether you have 1 item or 100 to contribute, your participation is an invaluable part of our fundraising efforts. By donating an item or service directly online, you'll be helping to raise money for our organization, and you'll receive a mention on our site that can link back to your own web page.
And, of course, the best way to support AGR is by bidding early and bidding often!
Live Event Details
Wed Feb 27, 2019
5:30 PM - 8PM MST
Diana Madaras Gallery
3035 N. Swan Road, Tucson, AZ 85712
Add to My Calendar
Get Directions
Please join us and experience color and joy at Diana Maderas Gallery. Diana Madaras' bold and colorful artwork will be on display and available for purchase. A portion of the evening's purchases will benefit Arizona Greyhound Rescue's Sol Dog Lodge and Training Center.
There will also be a live auction at 6 pm, featuring a framed print of Diana Madaras' "First Light" canvas — her most popular image ever (pictured above). For more information about the canvas, click here.
You can also bid on the "Best Friends" Madaras framed print, which is offered for auction here on Bidding for Good! Bid on "Best Friends"!
The Gallery reception is open to the public. There is no charge to attend. Please RSVP to: shelley@SolDogLodge.com