Now's your chance to own a piece of history and support a good cause, all at once!
President Obama, VP Biden, and hundreds of Congressional members autographs from all over the political spectrum! All in one spot...ALL for a cure!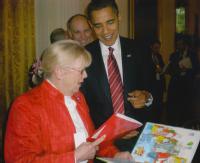 The Daniella Maria Arturi Foundation (Daniella Foundation) was founded by Manny and Marie Arturi after the loss of their daughter, Daniella, who was afflicted with the rare blood disorder Diamond Blackfan Anemia (DBA). Unable to produce enough red blood cells, DBA patients suffer from severe anemia, carry a predisposition to cancer, and more than 50% of children are born with congenital birth defects. Manny and Marie created the foundation to try to improve the circumstances for children and families facing DBA by improving the DBA clinical care environment, advancing family and physician access to DBA information and stimulating scientific research to improve treatment options and someday, find a cure for DBA. We hope you'll check out this truly unique Auction item in support of the Daniella Foundation's goals!
Signed by over 200 Members of Congress from both sides of the political aisle including President Obama, and Vice President Biden, this popular Capitol Hill children's book, House Mouse Senate Mouse, has been transformed into a truly unique one-of-a-kind piece of history! Proceeds from the book's auction will go toward the Daniella Foundation's DBA medical research initiatives, which are yielding important clues into bone marrow failure disorders, birth defects, cancer and other widespread disease areas!
Show your support by checking out our auction and placing a bid on this clever, fun and truly ONE-OF-A-KIND piece of history.
Special Note to the Winning Bidder: Once the auction closes and the winning bidder is revealed, a member of the DMAF team will send an email notifying him/her that they're the BIG WINNER! In the email will be contact information for the winning bidder to contact DMAF with the CVV code of their credit card to finish the transaction. This information will NOT BE STORED.
Click the link to see more images.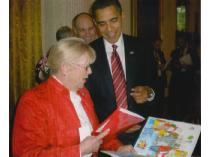 A copy of House Mouse Senate Mouse with over 200 congressional signatures!