Top Bidders
pfavery1955

$395

gyms00

$260

dchilds55

$250

clewtex

$200

blessedone

$170
Online Auction Open! Let the Bidding Begin!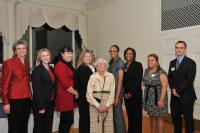 The Public Relations Program at Eastern Michigan University is offering fun, exciting and delicious items from April 7 - April 21, 2013. Check out our vast array of "goodies," bid often, and bid high! You don't want to miss out!
For the most success, be sure to follow these "professional" bidding tips:
1. Sign into biddingforgood.com right away and browse ALL of the auction item.
2. Once you've found your favorite items, be sure to click on the "how to bid" button. There you'll find all of the ins and outs of successful bidding.
3. On the page with your desired item, be sure to click the "add to my items" button. After doing so, you'll receive an email every time someone bids on the item you want.
4. Even after you bid, return to the site regularly to keep an eye on your favorites.
5. If at all possible, return to the site Sunday, April 21 before the auction closes at 9 p.m. EST. Some bidders wait until the last minute to place their bid, so you don't want to be left out!
6. Have fun! This is a great way to give to a worthy cause -- and score goodies for yourself!
Proceeds from the auction will fund student scholarships, PRSSA and other program expenses.
Become a Sponsor
If you or your organization would like to become a sponsor please complete our simple form and we will contact you.