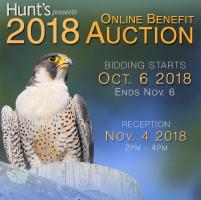 Hunts Photo & Video Presents:Peregrine Falcons: From Eggs To First Flight
Hunts Photo & Video will be auctioning off unique framed pictures.
This Auction features breathtaking photos of a pair of Peregrine Falcons and their 4 chicks during the recent 2018 breeding season. Share in the progression as the images show the time span of the birds from conception thru the chicks as they mature.
Many well-known local photographers will participate in the exhibit and contest.
Each image is printed as a 13x19 and is professionally framed by Hunts staff in a 18x24 Framatic metal frame.
Proceeds from the auction will benefit Mass Audubon Blue Hills Trailside Museum.
The Blue Hills Trailside Museum is operated in partnership with the Massachusetts Department of Conservation and Recreation, it is the interpretive center for the state-owned Blue Hills Reservation and features a natural history museum and outdoor wildlife exhibits. The animals on display, including snowy owls and a river otter, have been rescued and would not survive in the wild.
Trailside Museum staff helps to band peregrine falcons each spring. The bands provide researchers with valuable information about the behavior of these endangered birds.
Please feel free to join us at our Gallery Reception. View the framed images, meet the photographers and enjoy our speakers.
Opening reception: Sunday, Nov. 4, 2018 from 2-4 p.m. at Hunt's Photo, Melrose, MA. 02176. 781-462-2323. The guest speaker will be Tom French from MassWildlife's Natural and Endangered Species Program. We will also be joined by Ray Brown, host of the Talking Birds Radio Show. The show airs on 16 public and commercial radio stations around New England, New York, and Maryland.