Live Event
Tue Jul 3, 2012
7PM - 11PM EDT
New England Warrior Benefit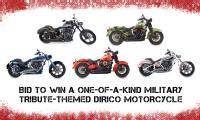 The New England Warrior Benefit will pay homage to those who guard the front lines of freedom, rallying our community to provide critical support and financial assistance for the children, spouses and parents of wounded and fallen heroes of these Special Operations units that routinely perform dangerous acts of valor to preserve and protect the American way of life.
To help support fundraising efforts, we have commissioned five special hand-crafted and custom-branded DIRICO Motorcycles for auction, each themed to represent a different branch of the United States Military Special Operations Forces.
Proceeds from this extraordinary auction and the Gala will equally benefit five nonprofit organizations that provide critical support for U.S. Special forces veterans and families of the fallen elite.