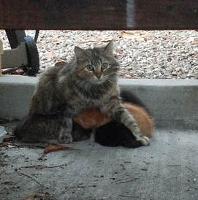 The Online Auction is Open!
The An Absolutely Meowtastic Auction is now open. The auction will run from August 19, 2019 to August 26, 2019, with proceeds going to North County Paws Cause in order to support trap-neuter-release, medical needs, fostering and homing our community cats. Auction items are donated items guaranteed to delight and surprise. So, tell your friends, family, community. Let the bidding begin!
Make Your Bid to Support Paws Cause!
Now is your chance to not only get all the great items you want, but to do it knowing you are helping support our organization and mission.
You've probably heard and seen our desperate stories this past kitten season. There are so many cats and kittens in need. Now imagine if our team of volunteers wasn't helping. Imagine MORE sickly cats. MORE homeless kittens. MORE unnecessary deaths. It can be overwhelming at times, we know. But with the money we make from your bids and donations we can do the work that needs to be done to help this situation.
As always thank you for your support and happy bidding!