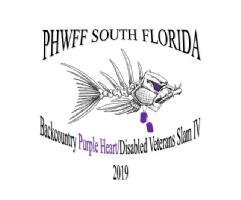 The Online Auction for Backcountry Purple Heart/Disabled Veterans Slam IV will open soon!
"A day on the water with comrades who share the scars of battle can only reinforce the gains of medical treatment for the mind, body, and spirit of those who sacrificed so much."
From August 5th - August 23rd, 2019, PROJECT HEALING WATERS FLY FISHING INC will be auctioning off exciting fishing charters in Florida and Louisiana including Captains with many years of experience to raise money for the disabled veterans served by their South Florida Program!
PHWFF, Inc South Florida programs in partnership with the Herman Lucerne Memorida Foundation and in cooperation with the U.S. Marine Corps Wounded Warrior Regiment and Vantage Point Foundation, will conduct the "Backcountry Purple Heart/Disabled Veterans Slam IV", a two-day fishing venue during August 12-14 2019 at Everglades National Park/Florida Bay, for 30 wounded/disabled veterans, in order to assist in their medial recovery and rehabilitation.