OSGS|Ortiz-Smykla Gallery-Studio of West Palm Beach, Florida, and its artists are honored to sponsor a online art auction to benefit Place of Hope.
Online art auction opens Tuesday, February 4 and closes Valentine's Day, Friday, February 14, 2014, 6 PM EST. Come in and bid on these one-of-a-kind art pieces. Sixteen pieces of art created by children at Place of Hope are available for "buy now" prices. See Childrens' Art (POA) on the left.
Place of Hope is a unique faith-based, state-licensed child welfare organization providing family-style foster care (emergency and long-term); family outreach and intervention; maternity care; safety for victims of domestic minor sex trafficking; transitional housing and support services; adoption and foster care recruitment and support; hope and healing opportunities for children and families who have been traumatized by abuse and neglect throughout our region.
The artists at OSGS and children at Place of Hope have donated their work to benefit to the needs of children and their families. Help us help Place of Hope by bidding on one or more of these one-of-a-kind pieces of art.
Place of Hope is a 501 (c) (3) charitable organization. All gifts are tax deductible to the fullest extent allowed by law.
Click here to learn more about Place of Hope.
Bidder is responsible for shipping and handling fees, which will be added to the winning bid amount. Items will be shipped via UPS and billed at standard industry rates.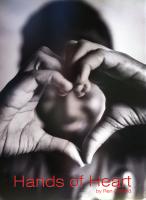 Hands of heart.
Photographed by Ren Dittfield.
Place of Hope childrens' art