Live Event
Tue Apr 9, 2013 9AM -
Sun Apr 21, 2013 9PM EDT
MINT MUSEUM AUXILIARY Room to Bloom AUCTION...April 9th - 21st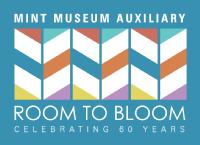 The 2013 Room to Bloom Auction offers opportunities to purchase fine art, custom baubles, high-end vacation packages and so much more. We appreciate the generosity of our donors and are incredibly excited about all of the auction items in store for you. This year's auction will be hosted online for the first time ever, allowing access to more Mint Museum supporters. Thanks in advance for your interest.
Funds raised this spring will support a year-long art program targeting a Project L.I.F.T. school that serves students in an economically challenged Charlotte community. It will also finance a grade level of Charlotte-Mecklenburg School students touring the museum's blockbuster exhibition, Inventing the Modern World: Decorative Arts at the World's Fairs 1851-1939, opening in September 2013. Your patronage is vitally important as it not only allows the Auxiliary to fund these critical educational initiatives, but also to sponsor ongoing educational programs for the community and acquisitions on behalf of The Mint Museum.
The auction is NOW OPEN...Browse, Bid, Buy...and have fun!