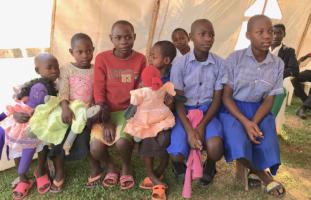 Auction Closed! Thank you for taking part!
The 2017 Green and Yellow Festival: "Let It Rain" was a great success. Thank you all for taking the time to support Friends of Ruwenzori Foundation and the life-saving and empowerment work in rural Uganda. Congratulations to everyone who:
placed a winning bid
generously donated an item for auction
attended the Green and Yellow Festival in Piedmont, CA.
invited family, friends and community to make their bid to build a better world
Pictured above are some of beneficiaries of your support.
Live Event Details
"Let It Rain!" was the theme for 2017's Green and Yellow Festival on October 21st. We enjoyed an inspiring program that showcased KIDA, our Ugandan partner working to reduce preventable deaths and foster healthy living in the Ruwenzori foothills of Western Uganda. Join us next year!
Thank you to our Event Sponsors! Check out the websites linked to the logos!
Caroline Booth