Featured Sponsors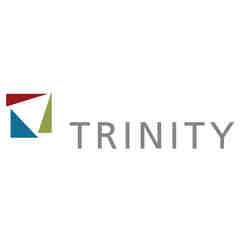 Trinity Development Group
Auction Links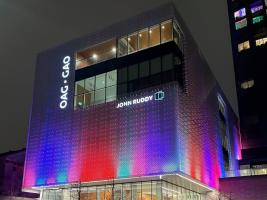 The OAG is getting ready to paint the town PINK!
La GAO se prépare à dérouler le tapis ROSE !
For more than 20 years, the Ottawa Art Gallery (OAG) has welcomed attendees for the Give to Get Art Auction, an annual fundraising event in support of local art, artists, and the OAG's public exhibitions, permanent collection, and community programming.
The 2023 event will inspire attendees from across the region as we celebrate the 5th year anniversary of the new OAG building. Mix and mingle with over 350 of Ottawa's corporate leaders, philanthropic community members, artists and special guests while enjoying a variety of passed hors d'oeuvres and interactive food stations (including a special guest appearance by Ottawa's own celebrity chef, Rene Rodriguez, winner of Top Chef Canada and executive chef at the Albion Rooms at the Novotel Ottawa), savouring local wine, beer and spirits, and bidding on a selection of over 95 custom artworks created by artists from across the region.
NEW this year: Prepare to be immersed in the live art activations and ambient music that will entertain and delight attendees throughout the evening, and don't miss out on the exciting jewelry box raffle featuring one-of-a-kind jewelry from an assortment of Canadian artisans and high-end jewellers!
This prominent annual event will take place on Thursday, May 18, 2023 between 5:30 p.m. and 8:30 p.m, in the Alma Duncan Salon on the third floor of the OAG (10 Daly Avenue).
Online bidding opens on Tuesday, May 16, 2023, at 8:30 a.m. and closes on Thursday, May 18, 2023, at 8:30 p.m.
Don't miss this exciting opportunity to purchase some incredible local artwork! Additionally, 50% of the proceeds from the art auction sales will go directly to the exhibiting artists, who are all locally based and at varying stages of their careers.
Want to see the artwork in person before placing your bids? The exhibition will be available for FREE public viewings on Tuesday, May 16 and Wednesday, May 17 between 9:00 a.m. and 6:00 p.m. and on Thursday, May 18 from 9:00 a.m. until 12:00 p.m. (noon).
The artwork will also be on display during the event on Thursday, May 18, where you will also have the opportunity to meet the artists and hear their stories, for an even more immersive opportunity to view and connect with your favourite pieces.
Ticket sales open on Monday, April 3, 2023 ($149.00 individual ticket / $1,400 pack of 10 tickets).
CLICK HERE TO GET YOUR EVENT TICKETS
~
Depuis plus de 20 ans, la Galerie d'art d'Ottawa (GAO) propose l'encan Donnez-vous à l'art, un événement annuel de collecte de fonds qui appuie l'art et les artistes de la région ainsi que les expositions publiques, la collection permanente et la programmation communautaire de la GAO.
L'événement 2023 souligne le 5e anniversaire du nouvel immeuble de la GAO et inspirera les gens de partout dans la région qui y participeront. Venez vous mêler à plus de 350 leaders d'entreprise, membres de la communauté philanthropique, artistes et hôtes d'Ottawa, tout en dégustant une variété de hors-d'oeuvre servis et de stations alimentaires interactives (avec la participation spéciale de Rene Rodriguez, la grande toque d'Ottawa qui a remporté l'émission Top Chef Canada et qui est chef du restaurant The Albion Rooms dans l'hôtel Novotel d'Ottawa), en savourant vin, bière et spiritueux locaux, et en misant sur une sélection de plus de 95 oeuvres d'art personnalisées créées par des artistes de toute la région.
NOUVEAUTÉ cette année : Plongez dans les activations artistiques en direct et la musique d'ambiance qui divertiront et raviront tout au long de la soirée. Ne manquez pas non plus le tirage au sort d'une boîte à bijoux contenant des créations uniques provenant d'artistes en bijoux du Canada !
Cet important événement annuel aura lieu le jeudi 18 mai 2023, dans l'ultramoderne Hall Alma Duncan, au troisième étage de la GAO (10, avenue Daly).
Les enchères en ligne ouvrent à 8 h 30 le mardi 16 mai 2023 pour se terminer à 20 h 30 le jeudi 18 mai 2023.
Ne manquez pas cette occasion emballante d'acquérir des oeuvres incroyables réalisées par des artistes de la région. De plus, 50 % des recettes des ventes de l'encan seront versées directement aux artistes qui exposent : des artistes qui travaillent dans la région et qui se trouvent à différents stades de leur carrière.
Vous voulez avoir l'occasion de voir les oeuvres en personne avant l'encan ? L'exposition sera ouverte au public le mardi 16 et le mercredi 17 mai de 9 h à 18 h et le jeudi 18 mai de 9 h à midi. L'entrée est GRATUITE.
Pour une expérience plus interactive et pour en apprendre plus sur vos pièces préférées, sachez que les oeuvres seront exposées lors de l'événement du jeudi 18 mai, où ce sera aussi l'occasion de rencontrer les artistes et d'écouter leurs histoires.
Les billets seront en vente dès le lundi 3 avril 2023 (149 $, billet individuel / 1 400 $, un lot de 10 billets).
CLIQUEZ ICI POUR OBTENIR VOS BILLETS POUR L'ÉVÉNEMENT
BECOME A SPONSOR / DEVENEZ COMMANDITAIRE
CLICK HERE TO VIEW THE 2023 SPONSORSHIP GUIDE
All funds raised through this event will help to ensure that the OAG can continue to:
Offer FREE admission to our exhibitions, vernissages, and public programs, reaching patrons and participants from toddlers to seniors.
Grow our Mental Health and Art Therapy initiatives through the partnerships we have fostered with our Creative Space program, which is a service that our community needs now more than ever.
Support local artists across their life cycle, with specific approaches for emerging, mid-career, and mature artists, along a spectrum of strategies and resources including mentorship, exhibition support, profile building, and other means to enhance an artist's continued evolution.
Foster an inclusive, welcoming environment for everyone to engage with and enjoy, including taking active steps to recruit and retain staff and board members from the Black, Indigenous, racialized, francophone, 2SLGBTQQIA+, and disability-identified communities, as well as conducting an annual audit of our collections, programs and operations to identify gaps, systemic barriers and challenges throughout all areas of our operations.
Further green practices throughout the OAG building and our organizational operations, including a net-zero audit and plan to minimize waste produced by the OAG's programs and administration.
And so much more!
Last year the event attracted over 350 attendees from across the Ottawa area, and together we raised over $113,000 in support of local arts and cultural development at the OAG, plus an additional $22,000 that went directly to the exhibiting artists from the auction proceeds. Together, let's make this year another enormous success!
To become a sponsor of the 2023 Give to Get Art Auction, or to learn more about other ways to show your support of the OAG and the artists, families, and community members that we represent and serve, please contact Lydia Blanchard, Chief Development Officer directly at 613-218-3880 or by email at lblanchard@oaggao.ca.
~
SUIVEZ CE LIEN POUR CONSULTER LE GUIDE DE COMMANDITES
Les fonds amassés lors de l'événement permettront à la GAO de continuer à :
Offrir l'entrée GRATUITE à ses expositions, ses vernissages et ses programmes publics, rejoignant ainsi des mécènes et personnes participantes allant des jeunes enfants aux personnes âgées.
Développer ses initiatives en matière de santé mentale et d'art thérapie grâce aux partenariats établis dans le cadre de notre programme espace créatif, une initiative plus que jamais nécessaire pour la communauté.
Appuyer les artistes tout au long de leur cycle de production, par le biais d'approches ciblées aux carrières émergentes, établies et chevronnées et développer des stratégies et ressources, incluant des occasions de mentorat, d'appui aux expositions, et d'établissement de profil entre autres, afin de rehausser l'évolution continue des artistes.
Favoriser un environnement inclusif et accueillant pour que chaque personne puisse s'y engager et en profiter, notamment prenant des mesures concrètes pour recruter et pour retenir un personnel et des membres du conseil provenant des communautés de personnes handicapées, noires, autochtones, racialisées, francophones et 2ELGBTQQIA+, en plus de passer une vérification annuelle de ses collections, de ses programmes et de ses opérations dans le but de cerner les lacunes, les obstacles systémiques et les défis existants.
Pousser les pratiques vertes partout dans l'édifice, et au sein des opérations, incluant une vérification sur la carboneutralité et la mise en oeuvre d'un programme de réduction des déchets produits par la GAO.
Et plus encore !
L'année dernière, plus de 350 personnes de toute la région d'Ottawa ont participé à l'événement, et ensemble, nous avons recueilli plus de 113 000 $ pour soutenir les arts et le développement culturel locaux à la GAO ; 22 000 $ supplémentaires ont été remis directement aux artistes dont les oeuvres ont été exposées, grâce aux recettes de l'encan. Ensemble, faisons de cette année un autre énorme succès !
Pour devenir commanditaire de l'encan Donnez-vous à l'art 2023, ou pour en savoir plus sur les autres façons soutenir la GAO et les artistes, familles et membres de la communauté qu'elle représente et sert, veuillez communiquer avec Lydia Blanchard, développement, direction en chef, en composant le 613-218-3880 ou en écrivant à lblanchard@oaggao.ca.