Hearts for the Arts 2015 Online Auction is Now Open!
The online portion of the nineteenth annual Hearts for the Arts is now open. The auction will run through February 27 at noon, with the live event taking place on February 28.
Proceeds support the Ann Arbor Symphony Orchestra's musical arts enrichment programs for 30,000 students in Southeast Michigan.
Auction items range from exotic vacation getaways to donated items guaranteed to delight and surprise. So, tell your friends, family, community. Let the bidding begin!
Exclusive Silent and Live Auction items will be available for viewing shortly, but will not be available for bidding here.
In addition to the items at the event, we will have a wine pull: for $25, take a chance -- pull a numbered cork from a bin and get the corresponding bottle of wine, valued up to $60 or more. Everyone who participates is eligible for a drawing to get a Jeroboam-sized bottle of Montepulciano by Giuseppe Savini Rondineto.
Special Thanks to:
Cheryl and Bruce Elliott, Honorary Chairs
with support from
AUCTION WATCH: Featured Items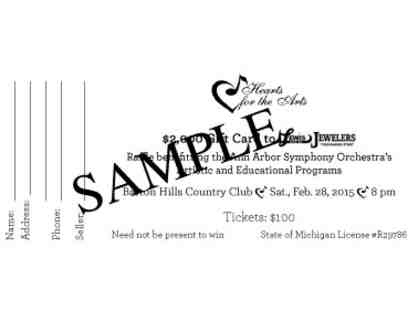 $100 Raffle Ticket for $2000 Gift Card to Ann Arbor's Lewis Jewelers
Become a Sponsor
If you or your organization would like to become a sponsor please complete our simple form and we will contact you.