Donate Cash
Auction Links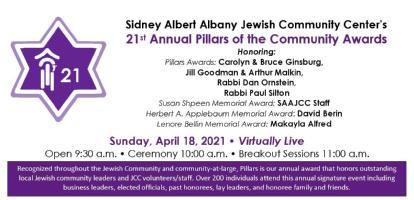 Join us for the 21st Annual
Pillars of the Community Awards
The Sidney Albert Albany Jewish Community Center invites you to join us in honoring Carolyn & Bruce Ginsburg, Jill Goodman & Arthur Malkin, Rabbi Dan Ornstein, and Rabbi Paul Silton at our 21st Annual Pillars of the Community Awards. This prestigious community event recognizes individuals who have made exceptional contributions to the Center and/or to the Jewish community at-large through education, service and acts of kindness.
The honorees will be celebrated on Sunday, April 18th beginning at 10:00 am via a Virtually Live streaming event. Each year more than 200 local businesses and community leaders, honoree friends and family, and staff attend this signature event to pay tribute to the Pillars. We ask you please join us as an Honorary Committee member or Corporate Sponsor. There are also general viewing tickets available.
Live Event Details
Sun Apr 18, 2021
9:30 AM - 12:30 PM EDT
Virtual Event ~ View from the comfort of your own home.
Add to My Calendar
Tickets required.
View the 2021 Pillars of the Community Awards online using the link provided an email confirming your ticket purchase.
Afterwards, mingle with this year's recipients and other guests during our post-ceremony breakout sessions. Links and further information will also be provided in your an email confirming your ticket purchase.
Become a Sponsor or Join the Honorary Committee
Honor this year's recipients with a sponsorship or honorary commitment.