Auction Links
Top Bidders
jb68696d8

$430

ehe16e3a3

$333

wolven

$313

kl1e1736d

$305

papaiva

$295

Glushbaugh

$242

Poopdoc

$205

bb9516e0b

$200

cbeb82a41

$176

bceff5fbf

$175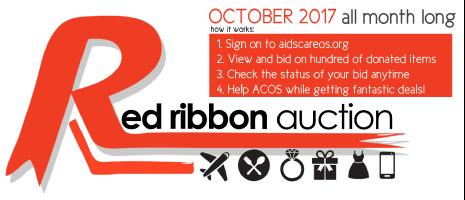 The Online Auction is Open! Our Live Event is coming soon.
The online portion of AIDS Care Ocean State's ARTBeat Red Ribbon Auction 2017 is now open. The auction will run from October 1, 2017 to October 25, 2017, with the live event taking place on October 27, 2017. Proceeds go to AIDS Care Ocean State in order to support (YOUR MISSION). Auction items range from exotic vacation getaways to donated items guaranteed to delight and surprise. So, tell your friends, family, community. Let the bidding begin!
Make Your Bid to Support AIDS Care Ocean State
Now is your chance to not only get all the great items you want, but to do it knowing you are helping support our organization and mission.