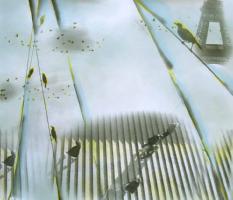 Birds in Paris France by Loren Ellis
All Cash donations are tax deductible. Please support our visual
and performing arts workshops.
Click below to visit our website.
Our LAST Auction
Art for Healing NYC Int'l org.
with Bidding for Good. It has been a great experience.
Take advantage of these Low Prices NOW!
We all need the arts in our lives.
"Without art the crudeness of reality would make the world unbearable"-George Bernard Shaw
The arts are extremely important in everyone's life. When one is healed spiritually via the involvement or creating the visual and performing arts, one can heal physically and mentally. Art for Healing NYC Int'l Org. believes in arts education for all ethnic groups and all ages.
Please Give. The funds we receive help us continue our Visual and performing arts programs with children, adults, and our Veterans.
Please buy 911 NYC arts books and donate them to your public and school library!
Art for Healing NYC Int'l org published a decade later "9.11...NYC...The Days After..." a peace and courage NYC arts book. Please visit our website to listen to the songs of the lyrics in our book. For just $20 you can donate this historic book to your public library or school library. Ask us about bulk purchase of our historic USA 911 book for English, history and art and music classes.
Founder Loren Ellis, M.F.A.
Loren is on the board of the Mental Health Foundation. We also support Veterans Associations, Green Peace, the Nature Conservatory and more.
We all have to work together for a better world:
with peace, love and sharing.