Live Event
Wed Apr 17, 2013
6PM - 9PM EDT
Top Bidders
sredd7681

$5,202

afriedman5

$4,150

ydubitzky

$2,500

Help1another

$1,800

profg

$1,650
The Online Auction is Now Open! Join us for the Live Event on April 17!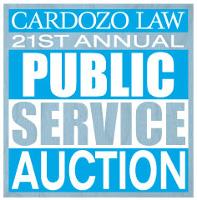 Help Cardozo Law students help the under served.
Benjamin N. Cardozo School of Law is proud to host the 21st Annual Public Service Auction. This student driven event provides opportunities for students to receive summer stipends for otherwise uncompensated internships in the public sector.
This support is critical for the students, but also for the clients they serve in underrepresented areas including: women's health, immigration and poverty. This stipend also allows students to travel internationally to Rwanda, Lao and Delhi to train in international law while serving the common good. We are grateful for your support.
A record number of students have applied for the 2013 Summer Stipend Program. We need your help to meet this great demand.

Online auction: Tuesday, April 8 at 12 PM - Friday, 19, 2013 at 8 PM (Items for Cardozo Students Only continue through Monday, April 22 at 6 PM)
Silent & Live auction: Wednesday, April 17, 2013 at 6 PM
Buy Tickets to the Event
Donate to the Stipend Fund
Join us at Cardozo on April 17 for a great party, complete with delicious food, spirits, and more fabulous items for bidding.


Thank you to our 2013 Cardozo Public Service Auction Sponsors
Jennifer '99 and Jamie Rothenberg
Floersheimer Center for Constitutional Democracy
The David Berg Foundation
Weitz & Luxenberg
BarBri
Anonymous
Paul Brusiloff '91 and Nadja Caulfield '96
We are deeply grateful to:
Kathryn O. Greenberg '82
our trailblazer
Board Chair Emerita
AUCTION WATCH: Featured Items