Top Bidders
apteros

$2,825

rpemoir

$1,760

donnarm

$1,000

Priebatsch

$750

bake52

$650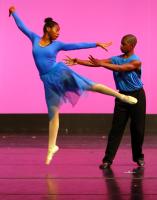 Transforming Lives Through the Arts, One Child at a Time...
LET THE BIDDING BEGIN!
The Celebrity Series of Boston Spring Auction is now open for bidding. The auction will run from April 1 to May 15. All proceeds will benefit the Arts, Education and Community Program of the Celebrity Series. Tell your friends, tell your family and let the bidding begin!

Celebrity Series of Boston: Arts, Education and Community
At the Celebrity Series we believe that the performing arts are an essential part of our culture and our community, and that everyone should have the opportunity to experience the joy of music and dance and the thrill of live performance. In partnership with artists, schools and community groups, Celebrity Series brings music and dance to thousands of Boston youngsters each year. Concert experiences, hands-on workshops, masterclasses, and innovative dance training programs harness the creative energy of the arts to engage, entertain and enrich the lives of young people in our community, nurturing the next generation of artists and audiences.
DO YOU BELIEVE
in the power of the arts to engage, enrich, and inspire our community?