Chorus pro Musica is getting ready to run another online auction fundraiser!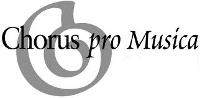 What could you accomplish with a 3-hour creative writing session? Have you considered learning how to sail? How long has it been since you've done dinner and a show?
Chorus pro Musica welcomes you to enjoy an evening out on the town, learn new hobbies, and accomplish your personal goals, all while helping a great cause!
We are dedicated to providing the greater Boston area with unique and diverse choral programming, and we can't do so without your help! Donate and bid on items today in support of Chorus pro Musica!

About Chorus pro Musica:
Chorus pro Musica has built a superb reputation as one of the great choruses of New England. Known for innovative programming and high quality performances, Chorus pro Musica has collaborated with such famed organizations as the Boston Symphony Orchestra, the Boston Philharmonic, and the New England Philharmonic.

For more information, visit our website.
No items strike your fancy?
You can still support the organization by making a donation!