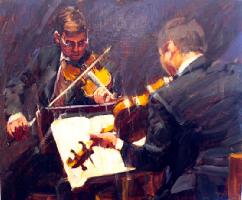 For the first time, Chamber Music Festival of Lexington is offering online bidding for its commissioned artwork!
The Chamber Music Festival of Lexington has an established tradition of selecting an area artist to create a work of visual art which becomes the icon for the entire festival year. The festival sees this as a way of calling attention to another important component of the Lexington arts community. The work is displayed around town during the late spring and summer and is moved to the Downtown Arts Center for the concerts. The work will be available for online bidding in July via Bidding for Good and will conclude in a live auction during the Festival.
From artist, Kelly Brewer:
"I'm always drawn to light that creates a dark/ light pattern of interesting shapes. The hope is the shapes come together to tell a story and capture a mood or energy. As for "The Duet," I hope the painting conveys rhythm and a sense of the subject's passion for their art."
Become a Sponsor
The Chamber Music Festival of Lexington is a 501C3 charitable organization.
Your donation allows the Chamber Music Festival to fulfill its mission of bringing world-class music to the Bluegrass and educating thousands of the area's school children.
IF YOU ARE INTERESTED IN BECOMING A SPONSOR OR GIVING AN INDIVIDUAL GIFT, PLEASE CONTACT US AT THE EMAIL ADDRESS INDICATED.
CONTACT → Chamber Music Festival P.O. Box 21816, Lexington, KY 40522 - 859.813.4265 - info@chambermusiclex.org
Featured Item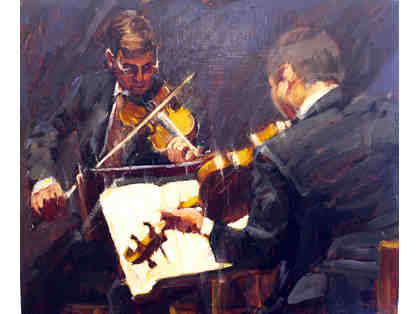 "The Duet" by Kelly Brewer, 2017 CMFL Commissioned Art