Auction Links
Top Bidders
km7a84c55

$6,000

afa72ae29

$752

jl0742a91

$715

bl617e2c5

$700

bg3376b79

$550

mh259ea46

$545

sse38164d

$500

kf751f244

$410

ag05c700a

$410

jm3cfeeac

$301
Get ready for Compass to Care's 7th Annual Fashion Show!
On Saturday, November 10th, Compass to Care is hosting its 7th Annual Fashion Show presented by CIBC, Leadership's Calling and the Diane and Richard Templer Family Foundation.
We invite you to join us for this special event where Doctors and Nurses from across Chicago will walk the runway in clothing by Lord & Taylor to help raised money for kids with cancer.
This year, our event is being held at the unique Studio Manarchy. Studio Manarchy was originally built in the 1890's as a maple syrup factory. It is rumored that in the 20's Al Capone used the building as a speakeasy and gin mill. Studio Manarchy is now filled with Americana props, primitive antiques, and eclectic memorabilia. It is also the home of the world's largest camera and the fine art photography of Dennis Manarchy.
We are honored to have Brian and Christy Greenblatt serving as this year's Fashion Show Chairs.
It is going to be a night of fun, fashion, art, and photography all to raise money to help children on their journeys toward a cancer cure. We hope you can make it!
Emcee: Dolly McCarthy, Host & Executive Producer of The Dolly McCarthy Show
Guest Speaker: Jordyn Gourley, Childhood Cancer Survivor and Former Compass to Care Kid
Fashion Show Models: Chicagoland Doctors & Nurses
Live Event Details
Sat Nov 10, 2018
7PM - 11PM CST
Studio Manarchy
656 W Hubbard St Chicago, IL 60654
Add to My Calendar
Get Directions
Online ticket sales are now closed. You will be able to buy tickets at the door.
Doors will open for VIP guests at 6:30pm.
Doors will open for General Admission guests at 7:00pm.
Guests will enjoy beer and wine, provided by our Journey Sponsor, Constellation Brands, and appetizers. Our Lord & Taylor Fashion Show will kick off at 8pm, following a presentation by our guest speaker Jordyn Gourley, a childhood cancer survivor and former Compass to Care Kid.
This year, all models in our Fashion Show are Doctors and Nurses from Chicago!
Please join us for this trendy, fun, heartfelt evening to support children as they travel in search of a cancer cure.
Do NOT Miss A Chance to Win This Amazing Vacation!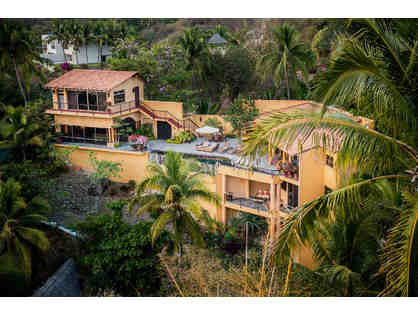 A Week at the Private Casa De Sofia for 8