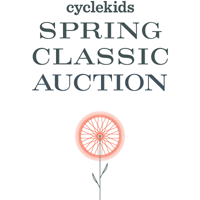 The Online Auction is Now Open!
The online portion of CYCLE Kids Spring Classic 2018 is now open. The auction will run from April 10, 2018 to May 10, 2018, with the live event taking place on May 10, 2018.
Proceeds go to Cycle Kids Inc. in order to support strengthening the emotional and physical health of children by giving them the skills to lead active and healthy lifestyles, using the fun and practical skill of riding a bike.
We are excited to have a number of fun and unique items in our auction this year! Bid on a VIP experience at the New York City Ballet, beautiful children's bikes by woom, a Body Glove inflatable stand-up paddleboard, fun vacation packages, and more.
So, tell your friends, family, community. Let the bidding begin!
Live Event Details
Thu May 10, 2018
6PM - 9PM EDT
Shop Studios
528 West 39th Street, New York, NY 10018
Add to My Calendar
Get Directions
Join us at the CYCLE Kids Spring Classic!
On Thursday, May 10th, CYCLE Kids will host the 2018 CYCLE Kids Spring Classic, an annual food, wine, and beer tasting reception and fundraising celebration featuring tastes from acclaimed New York City chefs.
The celebration, honoring Barry A. Adelman, will be held from 6:00 PM until 9:00 PM at Shop Studios at 528 West 39th Street on Manhattan's West Side, with panoramic views of the City and the Hudson River.

Meet our Chefs:
Chef Andy Knudson, Restaurant Marc Forgione
Chef Mathew Woolf, Bar SixtyFive at the Rainbow Room
Executive Chef Joe Vigorito, L'Artusi
Chef Ryan Hardy, Legacy Records
Chef Ben Grossman and Chef Craig Samuel, Peaches HotHouse
Chef Baker Mark Fiorentino & Head Baker Baye Niang, Zaro's Family Bakery
Chef Christian Petroni, Fortina

The event will also feature specialties from:

Salumeria Biellese
Savory
Shake Shack
Kobrick Coffee Co.
T. Edwards Wines & Spirits
Brooklyn Brewery
Brooklyn Gin
Make Your Bid to Support CYCLE Kids!
Now is your chance to not only get all the great items you want, but to do it knowing you are helping support our organization and mission.
The CYCLE Kids mission is to engage children in physical activity to address the health and emotional issues facing today's under-active, often overweight, children. Our program is founded on the idea that good health is holistic: nutrition, physical activity, intellectual stimulation, and emotional well-being are all related facets of overall wellness.
Just Some of Our Many Great Items: