Donate Cash
Auction Links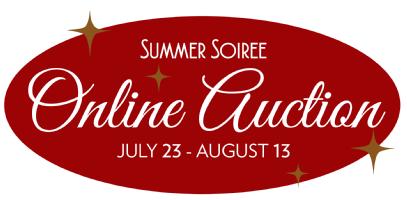 The Cyrus Dallin Art Museum's Summer Soiree Auction is now open!
Hello friends! This online auction, in conjunction with our Annual Summer Soiree on August 5th, is the Dallin Museum's largest and most important annual fundraising initiative.
Proceeds will ensure the care and preservation of Dallin's priceless works of art and the development of extraordinary programs and events. In addition, funds raised during this event will allow us to achieve the following strategic goals in 2018-2019:
Unveil new artworks and a self-guided tour.
Expand group tours and art-making programs for children and adults.
Implement upgrades to the Museum's exhibits and galleries.
About the Cyrus Dallin Art Museum
The Dallin Museum is only institution in the country solely dedicated to celebrating the legacy of the acclaimed sculptor, educator, and humanitarian who lived and worked in Arlington, Massachusetts. Cyrus Dallin (1861-1944) is known for some of America's most iconic sculptures, including "Appeal to the Great Spirit" in front of the Museum of Fine Arts, Boston, and "Paul Revere" in Boston's North End. In the intimate setting of the Cyrus Dallin Art Museum, visitors can experience over 80 artworks that range in subject from historic and allegorical figures, to deeply personal portrayals of Native people and family members.
Cyrus Dallin created art that would empower and uplift. He advocated tirelessly for the rights of Native people. He devoted forty years of his life to teaching, and mentored a generation of Boston sculptors. Without his tremendous civic involvement, his hometowns of Springville, Utah and Arlington would not be the vibrant communities they are today.
In furthering its mission, the Dallin Museum meets an important community need by making fine art accessible to all. General admission is a small suggested donation (no one is ever turned away) and program fees are free or kept to a minimum.
Lear more about the Cyrus Dallin Art Museum here.
Live Event Details
Sun Aug 5, 2018
5PM - 8:30 PM EDT
Woburn Country Club
5 Country Club Rd., Woburn, MA 01801
Add to My Calendar
Get Directions
Don't miss our annual Summer Soiree Gala, a fun summer evening celebration to benefit the Dallin Museum! Experience the tastes, sights, and sounds of a Bal-Musette Parisien in honor of the city that launched Cyrus Dallin's career as an internationally acclaimed sculptor. Enjoy a repertoire of iconic French popular music developed exclusively for the Soiree by the talented musicians of Musette Suzette. Indulge in French-inspired hors d'oeuvres, desserts, and signature cocktails. Bid on incredible items in a silent auction emceed by Arlington Selectman Kevin Greeley, who will also say a few words about the importance of the Dallin Museum in the community.
Tickets: $60, $75 at door
Learn more and buy your tickets here!
Thank you to our generous Summer Soiree sponsors!
Great Spirits: Dan Johnson and Faye Kolhonen, Ken, Betsy and Jean Dallin Doherty, James and Misty Corey
Visionaries: Mirak Automotive Group, Winchester Co-operative Bank, Chevron
Altruists: Century Bank, Watertown Savings Bank, Anne Ferguson and Peter Drench
Sustainers: David Kubiak, The Dallin Family: Gail Adams and Wayne Coste, Glenn Doherty and Barbara Milhender, Karen and Ken Friker, Delphia Hibbard, Denice Wheeler
Advocates: American Alarm, Arlington Community Media, Carol Greeley, Bowes Real Estate, Doukakis-Corsetti Insurance Agency, EMM Consulting, Keefe Funeral Homes, Harris Pluming and Heating Corp., Lalicata Landscape Products