Auction Links
Top Referrers
anita lemonis

27

Barbara Honig

2

Ann Crittenden

2

Miranda Preston

1

C. Moschopoulos

1
Refer Your Friends
Top Bidders
flefbb77b

$2,100

laluna

$1,849

akamaiwahine

$1,448

cakmdaukwc

$1,420

rosn

$1,366

cbaidepugh

$1,300

eh414409a

$1,275

skdfaebf1

$1,200

sgbb4dd39

$1,050

ataubin

$1,000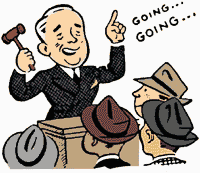 The Democrats Abroad 2017 Global Auction is LIVE!
Help us raise money for "Get Out the Vote 2018" - and get that perfect gift at the same time!
Running thru Dec 3, Democrats Abroad is auctioning on-line a great bunch of fun and unique items to raise money for our organization's Get Out the Vote (GOTV) efforts in 2018. So look around and pick out the item for YOU! And help us Take Back Congress and the Statehouses while you are at it. Just click on the "View Items" button to get started.

And it is not too late to donate an item for the Auction. Click on the "Donate Items" button in the upper right to add to our catalog.