Donate Cash
Auction Links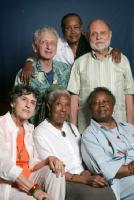 auction fundraiser is happening NOW!
Elders Share The Arts is auctioning off a number of fun and unique items to bid on to raise money for our organization - and the more items we have the more money we can raise, so we're asking for your help!
We are a Brooklyn-based organization that has been serving the elder population of New York City for nearly 40 years, providing arts residencies led by professional teaching artists.
Our programs are aimed at the under-served, low-income elder population, most of whom do not otherwise have regular access to arts and culture. The programs span from 10-24 weeks and are offered in a range of art forms, from visual arts, to storytelling, to creative writing, and dance/movement. Elder participants use their life stories as a basis to create works of art, while mastering a new skill. Each workshop ends with a final event, either a gallery exhibit, play, or anthology reading of the works created.
Check out today's Featured Items below!