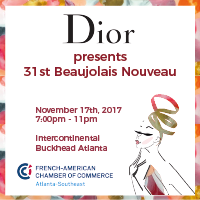 Beaujolais Nouveau online auction fundraiser: Let the bidding begin!
The online portion of the Dior presents 31st Beaujolais Nouveau's auction is now open. The auction will run from November 2nd, 2017 at 9am to November 17th, 2017 at noon, with the live event taking place on November 17th, 2017 from 7PM to 11PM.
Auction items range from vacation getaways to luxury items guaranteed to delight and surprise. So, tell your friends, family, community!
This social and fundraising event is our Annual Fundraiser, all proceeds will go to the French American Chamber of Commerce - Atlanta Chapter in order to support our activity.
This prestigious celebration remains the largest event in the Southeastern United States dedicated to the tasting of the new harvest of the Beaujolais Nouveau. It is the perfect opportunity to toast to the strength of the transatlantic connection between France and the US.

For this 31st edition, we're inviting the international community to share this tradition with a tasting of this year's vintage, a silent auction, and several French experiences.


Let the bidding begin!
And don't forget to buy your tickets to the live event on November 17th!
Click here bit.ly/2qxp7xc
Make Your Bid to Support the French American Chamber of Commerce Atlanta-Southeast!
Now is your chance to not only get all the great items you want, but to do it knowing you are helping support our organization and mission.