Donate Cash
Auction Links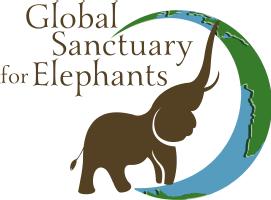 MENDOZA4 BENEFIT AUCTION JUNE 5-19!
For those of you who already know who we are and what we're about, welcome and thank you for continuing to find ways to support our current elephants and those who will soon find a life of respect, joy and companionship at Elephant Sanctuary Brazil. For those of you who don't know us, our organization or our vision of sanctuary, we'll try to wrap it up in a smallish package.
Global Sanctuary for Elephants is a fairly new US based 501(c)(3) organization, but our experience has a lengthy history. Essentially we exist to provide a life for captive elephants that they themselves have shown us they need during our time with them over the past 3 decades. Our founder, Scott Blais, has worked with elephants since he was 15 and at the age of 21 co-founded the largest habitat sanctuary in the US for captive elephants. This was at a time when it wasn't known what would happen if you gave elephants choice and respect, but he knew they needed something more.
Through 15 years of developing the sanctuary from 100 acres to 2700 acres, rescuing 25 elephants and interacting and caring for them daily, the true depth of the impact captivity has on elephants made itself very clear. The physical toll was damaging but it was the emotional and psychological toll that was often devastating. Aiding elephants along their journey of healing and rediscovery is what allowed us to truly understand what elephants need in order to blossom and thrive. It was the lessons we learned from the elephants who shared their lives with us and seeing their recovery that led us to want to provide that same life to elephants in other parts of the world- and so GSE was born.
As the world continues to become more aware of the suffering of captive animals, they are also embracing the need for something better. Our ultimate goal is to help establish natural expansive habitat sanctuaries for elephants around the globe that care for elephants as an entire and individual being- not just an elephant. Elephant Sanctuary Brazil is GSE's first sanctuary, located on a stunning 2800-acre property in Chapada dos Guimarães, Brazil. The diversity and richness of the land and year-round warm temperatures provide everything an elephant could desire, both for their body and mind. It is the perfect place for their forever home.
The slightly insecure but full of life Maia and the wise and increasingly gentle old soul Guida became the first residents of ESB in October of 2016. After a life in circus, followed by 5 years on chains, they immediately put their negative past behind them and embraced sanctuary and all it has to offer. Their recovery has been beautiful to watch, and we look forward to them welcoming others as the herd grows. With your help, in 2017, the GSE family of elephants will grow to include:
• Ramba/Chile: Since her removal from circus life four long years ago, Ramba has been patiently waiting to begin the journey to sanctuary. We are working closely with authorities to expedite her release.
• Mendoza Zoo Elephants/Argentina: Last month, GSE signed an agreement to receive all four elephants from the Mendoza zoo including Kenya-a female African elephant as well as Tamy a male Asian elephant and Pocha and Guillermina, a mother/daughter pair of female Asian elephants.
In order to save them all, we need your help. We know sanctuary is the only healthy captive alternative for elephants, the zoo agrees and is willingly handing over their elephants, now we need to build their home to give them the life they've never had but need and deserve. Our long waiting list of elephants comes with an even longer to-do list. We'll need to build fences to expand the female Asian habitat, enclosing the vast open space necessary to ensure they thrive. At the same time, we'll begin development of our second and third Elephant Care Centers that will enable us to accept an additional six female African and three male Asian elephants.
With your kind auction participation or cash donation you will help us restore the health and spirits of Pocha, Ramba and many others. We look forward to celebrating with you as the joyful chorus of contented trumpets and rumbles grows and echoes throughout the valleys of Elephant Sanctuary Brazil—sweet music to ears large and small.
If you would like to learn more about GSE, our team or possible future residents, you can visit our website GlobalElephants.org
You can help right now with a cash donation!
The online auction is not till June, however there is a way for you to help right now by making a cash donation. Funds are immediately available to GSE's efforts for the elephants. Use "Donate Now" to complete this donation. If you would like to honor or memorialize someone special, please note that in the Comment field.
Our deepest gratitude to the following sponsors and donors for their cash donations:
$2315 Arte for Elephants
$25 Adriana Aquino
$50 Anonymous - Donated with love to Mary and Mac and the elephants.
$250 Touch Wood Rings - Nicola and David Finch - Sponsorship at the $250 Level with love
$100 Anonymous - our gratitude to you, kind soul
$25 Carey Ostrer - #Mendoza4 has this great opportunity, Thank You!
$500 Elizabeth Clayton
$50 White Rabbit Beauty LLC
$100 Marilyn and John Olson
$100 Judith Blanco
$25 Melissa Romac
$1000 Donna Campbell
$250 Dorothy J. Phillips, LCSW - Elephant Helper Corporate Sponsorship
$200 Core Fitness and Physical Therapy - In honor of Caroline Taylor. Welcome to the world, baby Caroline! We're so happy for new grandma, Mary Taylor. xo
$1550 Carolyn & Michael Borkowkski - Given in honor of Scott and Kat.
$250 Joy Doogan - in memory of all elephants and rhinos who have been poached and abused. God bless!
$500 Good Earth Tours (one of our sponsors)
$150 Sandee Swanson and Stan Schilz
$100 Linda Talley
$100 Fred Duckwall
$25 Anonymous
$100 Ricki Duckwall - Given in memory of my mother, Venette Duckwall.
last updated: 5/21/17 with donations designated for the auction made on this site and through PayPal
CHECK OUT THESE FEATURED ITEMS!