Hall High Theater is hosting a cabaret fundraiser at the Katharine Hepburn Family home on Sunday, April 7, 2013 from 6-9 p.m.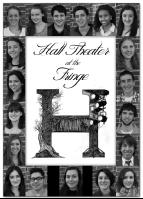 West Hartford, Connecticut's Hall High School Theatre Arts Department has been chosen to perform at the American High School Theatre Festival in Edinburgh, Scotland as part of the World-Famous Fringe Festival July 29-Aug 12, 2013. The Fringe is the largest arts festival in the world.
Hall's Theatre Arts Department was chosen as one of 40 out of the 2,100 North American schools nominated in a rigorous selection process. The program's director, Sean Harris, will take a group of 19 students to perform and produce an original play, written by Hall alumnus, Matt Macca.
All proceeds from the event defray the costs of bringing this production to the Festival.
Event committee: Betsy Smith, Chair
Kevin Barlowski, Anita Bennett, Chuck Coursy, Kate Busch Gervais, Sean Harris, Erin Matino, Elena Minnes and Meg Rattigan
Thank you to our hosts: Amy and Norm Young
Become a Sponsor
If you or your organization would like to become a sponsor please complete our simple form and we will contact you.