Live Event
Thu Dec 6, 2012
6PM - 10PM EST
Thank You for visiting Youk's Kids online auction page for Not Your Average Idol.
Together we are helping children...one hit at a time.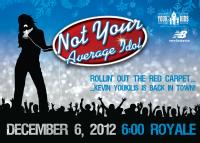 He's back in town....Kevin Youkilis. Please join him, Shawn Thornton, Jenny Dell and our hosts Chelsea Lately stars Sarah Colonna and Josh Wolf for a spectacular evening of entertainment featuring a musical performance by Vanessa Carlton.
The evening will also feature performances by Mike Burke, Will Dailey and Audrey Ryan and AHMIR.
December 6, 2012 at Boston's Royale Nightclub. The Red Carpet Reception begins at 6 pm and Main Event at 7:30 pm
The evening also features exceptional dishes prepared by Davio's, Douzo,Happy's Bar+Kitchen, Island Creek Oysters, Pigalle, restaurant dante & Il Casale, Samba Steak and Sushi House, Sweet, Sweet Basil, The Fireplace, The Pantry and Tremont 647 as well as festive beverages provided by Harpoon, Gallo Wines, Grey Goose, Polar Beverages and Starbucks.
TICKETS ARE NOW AVAILABLE ONLY AT THE DOOR.
Check Out These One-of-a-Kind Experiences