Live Event
Sat Apr 30, 2011
8PM - 8PM PDT
John Hay Elementary is giving you one last chance to bid online!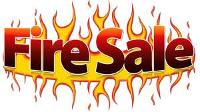 JOHN HAY'S FIRESALE!
Auction items that need a bit of a push..

There was just so much to see and so little time. Now is your chance to get a real deal, or a steal! Deep discounts, prices slashed and people lining up outside the door! (not really) But, you may be surprised at what was left out in cyber auction land. Its yours for the taking!
Get it while its HOT!
JUST ONE CLICK AWAY from BUY IT NOW!
You still can buy Family Night at the Mariners and "Throw a Pie in the Face" of Mr. Sturm and Rose!!
prices are 50-75% off
DO IT FOR THE KIDS!
Calling all parents who didn't win their bids...we have another opportunity to help our school.
ACT THEATRE, EARTHQUAKE RETRO FITTING, ARCHITECTURE SERVICES and more!
AMAZING items ready to be SOLD!


Tell your friends and family!!