Josiah Quincy School Auction & Banquet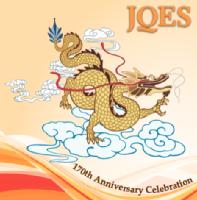 The Josiah Quincy School Association (JQSA) and Principal Cynthia Soo Hoo invite you to support the Josiah Quincy Elementary School's 173rd Anniversary Celebration!
Located in Boston's Chinatown, the JQES is BPS' largest elementary school including over 800 students. Thanks to the support of JQES families and surrounding community the JQES has a consistent track record of academic achievement, student enrichment, athletic engagement, and community investment. We need your support to continue to invest in our students, 52.2.% of whom are considered economically disadvantaged.
Your investments in the JQES and our children will provide students with opportunities in:
Technology - computers, tablets, and software needed in our classrooms
Swim Instruction - teaching over 500 students this critical life skill
Field Trips - in the city and in nature
Services - supplemental educational and counseling support
Every donation helps one more child see the Franklin Park Zoo ($10), visit a working farm ($10), learn on a tablet ($25), or access a computer lab ($50). Without your support, our students would not have these opportunities.
Take the next step...
There are several ways you can support our kids and ongoing education at the JQES:
Become a Named Sponsor for our 173rd Celebration and the JQES. This is an opportunity to reach hundreds of families the night of the event and thousands via our online communities on Facebook, Twitter, etc. Sponsorship levels include Platinum, Gold, Silver and Bronze and can include VIP tables at the event, placement on our school banners, ads in the program and recognition by the school's Principal at the Event. Reach out to JQSA co-chair, Webster Pilcher, to learn more at webster.pilcher@gmail.com
Buy a VIP Table at our 173rd Chinese Banquet. Join us for our 173rd JQES celebration on Thursday, May 7, 2020 at China Pearl in Chinatown, and you can reserve an entire table for you and your family, friends, or colleagues. The evening includes a wine and hors d'oeuvres reception followed by a 10-course traditional Chinese banquet with live entertainment and a silent and live auction. Email JQSA co-chair, Shannon Swan, to learn more at jqsassociation@gmail.com.
There are other ways to get involved. You can always purchase tickets, buy an ad, donate products or services, or simply make a tax-deductible financial donation to the school by visiting www.supportJQES.org or emailing the JQSA at jqassociation@gmail.com.
Thank you for your support! We couldn't do it without you and the students of JQES are forever grateful. Thank you for being a champion of our children!
The Josiah Quincy Elementary School (JQES), located in Boston's Chinatown, is the largest and one of the oldest elementary schools in the Boston Public School system. It has a strong legacy of academic rigor and instilling respect, perseverance, and self­discipline among its students. Hailing from all parts of the city, JQES students reflect the diversity of Boston itself. Our student body is 57% Asian, 16% Black, 14% Hispanic, 9% White and 4% that identify as other. Speaking more than 20+ different languages, for more than 57% of the student population English is not their native language.
The Josiah Quincy School Association (JQSA), a 501(c)(3) non-profit charitable organization, raises money to fund year-round swim instruction, technology lab improvements, and field trips. JQSA's mission is to promote the welfare of JQES students, offering recreational, educational, and enrichment activities. These activities foster self­reliance, intellectual and emotional growth, social adjustment, physical well­being, and encourage a healthy lifestyle.
The school itself does not have the resources to provide these life­saving skills and programs to its students and relies on JQSA to fund them. More than half of our student population consists of families at or below the poverty level, and for this reason, JQSA relies on donations and sponsorships to keep these vital programs functioning.
To learn more about The Josiah Quincy Elementary School visit our website. Did you go to the JQES? Checkout our Alumni Facebook page!
Thank you to our partner, the Wang YMCA of Chinatown, who provides Certified Swim Instruction for our swim program at a partnership rate.