Donate Cash
Auction Links
Top Bidders
civilgirl

$465

tk14bedba

$370

peb45

$260

ju0c18c8a

$180

btfsplk

$173

mlraff

$159

ko5aa1c7a

$117

LaurelS

$114

haac863f2

$100

meetjenwong

$83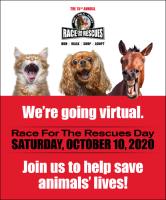 Auction Closed! Thank you for taking part!
The 2020 "Fun Size" K9YA Race for the Rescue Auction was a great success. Thank you all for taking the time to support K9 Youth Alliance.
If item indicates you are are responsible for shipping costs, and you live outside the LA area, we will reach out to you to coordinate payment for shipping costs. If not, your item will be mailed out by Friday, October 16th.
If you have questions, please email events@k9youthalliance.org