Donate Cash
Auction Links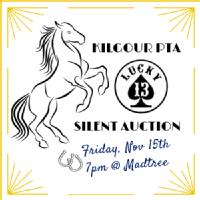 Kilgour + MadTree = Lucky 13 PTA Silent Auction
View a SAMPLE of our Auction Catalog
We Have Over 400 Items; please see our
FULL AUCTION CATALOG on Monday, 11/11/19
This year Kilgour PTA's LUCKY 13th Annual Silent Auction will take place on Friday, November 15 at MadTree Brewery in Oakley.
WHAT IS IT? Since its inception in 2006, the annual PTA Silent Auction has become Kilgour PTA's biggest fundraiser and largest social event. Last year, over 350 tickets were sold and $50,000 was raised for the school!
BUT WHY GO?

BECAUSE IT'S NOT ALL ABOUT FUNDRASING! It's a highly-anticipated adult-only social event to celebrate with our community, teachers, and families outside of school and to bid on hundreds of amazing, unique, must-have auction items.
AND EVERYONE IS WELCOME! We've worked hard to make this year's event more accessible to our entire community by hosting it locally, providing childcare at Kilgour School, offering teacher & volunteer discounts, and reserving select items and Great Gathering tickets for "After Auction" for those who can't attend the auction.
AS ALWAYS, Auction needs intrepid souls help out for a portion of the event. This year we have some fun stuff for volunteers to show how much we appreciate you!
SIGN UP TO HELP OUT A LITTLE DURING AUCTION
We look forward to seeing you at MadTree,
Chandler Dektas, Kilgour PTA President
Ryan Wenstrup-Moore, Kilgour PTA President-elect
Caroline Perez, Silent Auction Chair & Solicitation Lead
Jeff Sucharew, Silent Auction Chair
Live Event Details
Fri Nov 15, 2019
7PM - 10PM EST
MadTree Brewery
3301 Madison Rd. Cincinnati, OH 45209
Add to My Calendar
Get Directions
You can order your tickets online, or purchase them at the door. Be sure to register with Bidding for Good and bring your smartphone (fully charged) with the Bidding For Good mobile website already loaded up.
The shuttle bus by AAA, food by Catch-a-Fire, music & fun by DJ Newnu are complimentary but please, please don't forget to bring cash for:
the 50/50 Split the Pot
Lucky 13 Wine Pull Game
MadTree Cash Bar featuring wine, beer, and the "Wild Mustang," (but free gratis soda & water)

Limited Edition "Lucky 13" pint glasses
Also, if you can give a portion of your time to help us at the event, we will certainly appreciate that!
"LUCKY 13" Auction Timeline
6:30p

-First "Pony Ride" Bus from Kilgour to MadTree-

-CRC "Mustangs Night Out" Childcare at Kilgour begins-

7:00p


-Second "Pony Ride" Bus lfrom Kilgour to MadTree-

LUCKY 13 Silent Auction Commences

-Doors Open & Guest Check-In begins-

-MadTree Cash Bar Opens-

(beer & wine, and free-gratis soft drinks & water)

-Great Gatherings go on sale!-

-Visit the Wine Pull Game-

-50/50 Split the Pot begins making rounds-

7:00 - 9:30p


-Catch-a-Fire food service available-


-"Wild Mustang" limited batch cocktails available-

10:00p


-50/50 Split the Pot Raffle Winner Announced-

-Auction Ends: make sure your Best Bids are in!-

-Dance Party Begins!-


10:15p


-Auction Check-Out-


-Consider "Pony Express" Item Home Delivery-

10:30p

-First "Pony Ride" from MadTree to Kilgour-

11:00p


-MadTree Cash Bar Last Call-

-Last Dance-

-Lucky 13 Silent Auction closes-
THANK YOU TO OUR KILGOUR PTA AUCTION SPONSORS!!!

Each year, community- and education-minded business partners donate substantial funds to Kilgour PTA for the benefit of our school. PTA would NOT be able to provide as many resources to our students & teachers with them.

THANK YOU for all of your support!
We'll be cycling through some of the Fantastic Items in store for you in the days to come. Refresh your browser often!