Donate Cash
Auction Links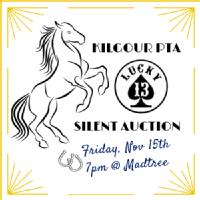 Kilgour + MadTree = Lucky 13 PTA Silent Auction
This year Kilgour PTA's LUCKY 13th Annual Silent Auction will take place on Friday, November 15 at MadTree Brewery in Oakley.
WHAT IS IT? Since its inception in 2006, the annual PTA Silent Auction has become Kilgour PTA's biggest fundraiser and largest social event. Last year, over 350 tickets were sold and $50,000 was raised for the school!
WHY IS IT IMPORTANT? Kilgour receives a smaller portion of local, state or federal funding relative to other CPS schools.
WHAT DOES THAT MEAN? Our community and families must pick up the slack. All funds raised by Kilgour PTA go back into school for the benefit of our students & families. The Silent Auction helps PTA fund things like supplemental enrichment programming, a field trip bus & classroom equipment for every teacher, software & technology packages, basic needs like copier maintenance, paper, and ink. And a whole lot more.
BUT WHY GO?

BECAUSE IT'S NOT ALL ABOUT FUNDRASING! It's a highly-anticipated adult-only social event to celebrate with our community, teachers, and families outside of school and to bid on over 450 amazing, unique, must-have auction items.
AND EVERYONE IS WELCOME! We've worked hard to make this year's event more accessible to our entire community by hosting it locally, providing childcare at Kilgour School, offering teacher & volunteer discounts, and reserving select items and Great Gathering tickets for "After Auction" for those who can't attend the auction.
We look forward to seeing you at MadTree,
Chandler Dektas, Kilgour PTA President
Ryan Wenstrup-Moore, Kilgour PTA President-elect
Caroline Perez, Silent Auction Chair & Solicitation Lead
Jeff Sucharew, Silent Auction Chair
Live Event Details
Order Tickets
Fri Nov 15, 2019
7PM - 10PM EST
MadTree Brewery
3301 Madison Rd. Cincinnati, OH 45209
Add to My Calendar
Get Directions
Tickets will be available beginning at Kilgour School's Open House. You can order your tickets online, or purchase them at the door. Be sure to register with Bidding for Good and bring your smartphone (fully charged) with the Bidding For Good mobile website already loaded up.
Don't forget to bring CASH for some of the fun fun Auction games- Split the Pot, the Lucky 13 Wine Pull, etc.
There will be a Cash Bar with wine, beer, soda, and water.
The Evening's Agenda (Tentative)
7:00 pm

Doors Open & Guest Check-In begins

Lucky 13 Silent Auction commences

Great Gatherings go on sale!

7:30 pm

Lucky 13 Wine Pull opens

50/50 Split the Pot begins walking

8:00 pm

Fun

9:00 pm

Lucky 13 Signature Cocktail Hour


10:00 pm

Make sure your Best Bids are in!

Auction End

10:30 pm

Auction Check-Out begins

11:00 pm

Lucky 13 Silent Auction closes
THERE ARE SO MANY WAYS YOU CAN HELP OUT!
1. Volunteer. Help us get items from local businesses. Sign up here. Any help, big or small, is appreciated… and no experience is necessary! We STILL need your help! Can you make 10 phone calls? We need you. Have ideas for decorating? Can drive a car and pick up a donation? Like to organize? We need you too! Every volunteer matters and helps the school!
2. Participate in the Street Baskets Battle. Find your neighbors, conspire with them to create the most popular basket at auction. Congrats to Nash & Ellison, our 2018 winners! Who will the 2019 title go to?
3. Seek a Donation. Ask your favorite business if they would consider being a donor to our Silent Auction. You LOVE your school & you LOVE where you shop. Not only will their donation help the school, but it's also a great way to market their business. Just drop off a form to them. If every family got just one donation we would have 100% of our items needed!!
4. Make a Donation. Our families typically help us with approximately 25% of ALL donations! Email us at solicitation@kilgourpta.org, or submit your donation online. EVERY donation counts! We will arrange pick up of your donation, no matter how big or small!
NO donation is too small. We challenge Kilgour families to think about what or how you might donate– it's only because of you that our PTA is successful! Be creative: what would you buy? If you like it, so will we!
BECOME A SILENT AUCTION PRESENTING SPONSOR
or
KILGOUR PTA SPONSOR
We have levels of sponsorship from $150 to $5000 and beyond. Place your company's logo on our site that links back to your own web page and you could develop new business. We can track how often your logo is viewed and clicked to see just how many people are accessing your site
Please contact Erin Paul & Sarah Evans at sponsorship@kilgourpta.org so we can begin planning how to integrate your promotion with our event.