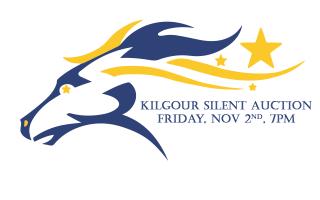 Get ready for the annual Kilgour PTA Silent Auction-- our biggest fundraiser of the year!
Join the Kilgour School community on Friday, Nov 2nd from 7-11pm at the Rhinegeist Brewery @ 1910 Elm Street. This is our major fundraiser for our school and it is major fun raiser for us! Early bird ticket pricing ends on October 26th! (click Order Tickets below).
NEW this year! As we continue to strive to welcome the entire Kilgour community to school-wide events, PTA is partnering with CRC to provide childcare at Kilgour School! As you purchase your ticket, please also register for $10 per child for CRC fun & entertainment from 7 - 11pm for your child (ages 5 - 12) while you socialize and bid on cool stuff in Over-the-Rhine.
Children must have a completed Emergency Medical Form on file with CRC (If your family is not currently in CRC's system, please fill out this Emergency Medical Form and return to school with your student or bring it with you Friday night.)
Also, be sure to register for your spot on one of our fundraising Rhinegeist Brewery tours.
Valet parking will be available for $5 at the Rhinegeist entrance on Elm Street.
Finally, if you can donate some of your time to help us set up on the Day of Auction, or to help out for an hour of the Event Itself, please sign up here and we'll send you a $10 volunteer discount code!!
We'll be updating our Catalog soon, and notify the community when that begins. Check back then!
Live Event Details
Fri Nov 2, 2018
7PM - 11PM EDT
Rhinegeist Brewery
1910 Elm St. $5 Valet Parking
Add to My Calendar
Get Directions
Order your tickets online now, or purchase them at the door. Register with Bidding for Good and bring your smartphone with Bidding For Good's mobile website loaded up- because bidding is mobile, baby!
A full cocktail selection (cash bar- and we do mean $cash$), complimentary light hors d'ouevres and soft drinks/coffee will be available. Valet parking will be available for just $5.
This adult-only event will be held on Friday, November 2nd, from 7 - 11pm at Rhinegeist Brewery downtown, @ 1910 Elm St. The evening's schedule includes a crazy slew of fun and exciting events including the famous Silent Auction, Great Gathering party sign-ups (in which all proceeds go back to Kilgour School's PTA programs), dancing, and MAJOR FUN!
The Evening's Agenda (Tentative)
7:00 pm

Doors Open & Guest Check-In begins

Kilgour 2018 Silent Auction commences

Great Gatherings on sale

7:30 pm

Lite Bites - and try a commemorative Kilgour Drink

Half-hour Brewery Tours begin

9:55 pm

Make sure your Best Bids are in!

10:00 pm

Silent Auction - Final close!

10:30 pm

Auction Check-Out begins

11:00 pm

Kilgour 2018 Silent Auction closes