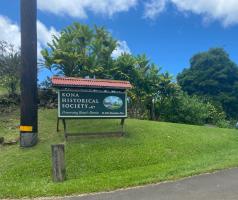 Auction Closed! Thank you for taking part!
The Kukulu Kalukalu - Kona Historical Society Online Auction was a great success. Thank you all for taking the time to support KONA HISTORICAL SOCIETY and our mission. Congratulations to everyone who placed a winning bid! Mahalo piha to those who generously donated an item for auction, and invited family, friends and community!
We'll be closing out the auction and notifying winning bidders as well those top bidders if a reserve was not met by email to coordinate delivery or pick up of your item. If for any reason the top bidder does not collect their item, we will contact the second highest in line.
If you have any questions, please email them to khs@konahistorical.org