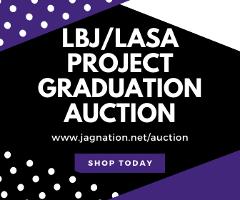 Bid Early! Bid Often! Bid High!
OPEN: November 17, 2019, 8am
CLOSE: December 9, 2019, 7pm
Want to highlight items you want to bid on?
Print out this easy to read shopping list: www.jagnation.net/list
Lots of experiences and great shopping, many services, fabulous restaurants, wonderful hand-made items, cool and awesome teacher donations and even some MUST be 21 to win items.
DO YOUR GIFT SHOPPING HERE!! Better than Black Friday sales AND no fighting the crowds or standing in line during the break! Experiences make great TEEN gifts and no accumulation of STUFF :)
All proceeds benefit LBJ/LASA PTSA Project Graduation. Help keep our seniors safe!

** Please let all your friends and family know! We have really great stuff for gift giving!
Make Your Bid to Support Project Graduation at LBJ & LASA.
Project Graduation, a drug- and alcohol-free all night lock-in for seniors on the night of graduation, has become a school tradition all over the country. Seniors can safely commemorate their achievements with a night of fun activities and entertainment.