Live Event
Sat Oct 25, 2014
8PM - 11PM PDT
Marin Museum of Contemporary Art
500 Palm Drive Novato, CA 94949
Go WILD this year at MarinMOCA's 7th Annual Art by the Inch!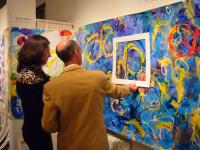 The ONLINE silent auction will run from Oct 14th - Oct 23th, closing on October 23th at 9pm. Get a sneak peak of all the items and start your bidding early. But it doesn't end there...FINAL BIDS are made the night of the fundraising events on Oct 25th starting at 5pm in Gallery 2 at MarinMOCA.
The main gallery will feature MarinMOCA's accomplished artists who have given of their time and talents to create a fabulous 100-foot mural to fundraise for the museum. The theme is Art by the Inch Goes WILD. Guests are invited to select their favorite section to cut out and take home. The mural will be sold for $1 per square inch and guests can choose any section or size they like. This fundraising event will take place on October 25th from 5-8pm.
Among MarinMOCA muralists are Susan Schmidt, Colleen Johnson, Sara Gorman-Brown, Kathleen Lack, Mary Beth Taggert, Harriet Burge, Beryl Miller, Nancy Nelson, Suzanne Merviss, Joel Yau and Donna Wallace-Cohen.
Ways to Participate:
Help decorate and set up
Ask local businesses for donations
Donate an item, service, class, etc.
Become a sponsor of this event
Wear your best wildly elegant outfit and come with a cheerful spirit
Give generously :)
Don't miss these amazing items!
Become a Sponsor
If you or your organization would like to become a sponsor please complete our simple form and we will contact you.