Auction Ends: Mar 15, 2015 11:00 PM PDT
Bid Now! Auction Closes Tonight!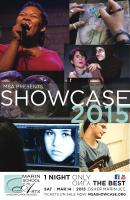 As part of Marin School of the Arts Showcase 2015, our two week long online auction will close tonight, March 15 at 11:00 pm PDT.

Auction Item Pick Up - Auction items will be available for pick up on Saturday, March 21, 10:00 am til 12:00 pm at Novato High School in the Performing Arts Center lobby. After that date, gift certificates will be mailed to winning bidders. Item pick up or delivery wtihin Marin County will be arranged, or items will be shipped. Please note: Buyers will be billed for shipping costs.
Thank You for Supporting MSA Showcase 2015!
Exciting new items!