Let's go back to the days of metal bands and big hair. Find some leg warmers, muscle shirts or acid washed jeans to wear. A big night out to celebrate the best decade yet, you can even show up in your little red corvette!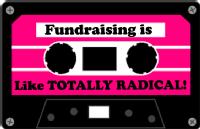 Tickets are on sale NOW here on Bidding for Good. Click on the "Order Tickets" button to the right and lock in your spot. Tickets are limited so buy yours early. Plus, that will give you plenty of time to find a totally radical outfit!
The Merriam Spring Auction catalog is here! Check your Friday Mail tomorrow to see all the fun items that will be available at this year's Auction.
Once you find the items you love, check back here to get more details about them and their opening bid. The most current list of auction items can be found on this page. Just click on any of the categories to the left.
Have questions about the Auction? We have the answers!
Frequently Asked Questions (FAQs)
Cannot make it to the auction this year but REALLY want to bid on something? No problem! Proxy bidding is for you!
You may still bid on auction items (live or silent), if you are unable to attend the auction. Proxy bids will be represented by a volunteer who will bid on your behalf, taking into account opening, secondary and maximum bids as requested. You are welcome to select up to five items for proxy bidding. Proxy bidders must register their credit card via here on B4G and, should you win your item, your card will charged based on your winning bid. Proxy bid forms must be received via email or in the main office by Monday, April 4. Forms are available here or in the Friday Mail. To submit your proxy bid via email, please contact Ginny Kremer (ginny.kremer6@gmail.com).
New to the Auction this year - The Wine Grab!
This year's auction will include a new event—a Wine Grab! Donated bottles of wine will be available on a "Buy It Now" basis at the auction. All of the bottles will be worth at least $20—some will be worth more (much more)! Each bottle will be wrapped, so your selection will be a surprise!
Please consider donating one or more bottles of wine (valued at $20 or more) to this fun part of the auction. Alternatively, you can donate cash and Merriam's resident wine expert, Shirlee Stein will do the shopping for you! Please contact Shirlee (ss.stein@verizon.net) or send in the donation form to get involved in the fun! Cheers!
COMING SOON - The Merriam Classroom Art Auction

Each class at Merriam School worked together to create a beautiful, framed piece of art for your bidding pleasure. These collaborative masterpieces vary from grade to grade and class to class. They are truly unique items that you would be proud to display in your home and your kids would love to see on the wall! These wonderful projects will be on display at the auction and available for sale online starting on Sunday, April 3rd through April 10th.
Please visit the Art Auction website in late March for a preview. Don't miss your chance to own a totally unique, hand-crafted work of art. Your child and your home décor will thank you!
Please help us put the FUN back in fundraising by making this year's Spring Auction a great night of community and support for Merriam Schooll!
Auction Questions? Please contact Alycen Nigro (alyheels@yahoo.com) if you have any ideas, questions or concerns.
Auction Committee Still Needs YOU!