Top Bidders
WayneAlexander

$3,000

Carinber

$300

PattieD

$120
Reprise: Music + Nature = Mendocino!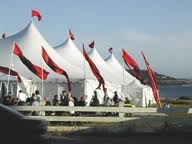 Thank you for supporting our auction! Bidding closed Friday, December 7 at 9 PM Pacific.
Missed the auction, but still want to help? Make a cash donation! Support the causes you love by contributing to this Mendocino Music Festival and Mendocino Area Parks Association joint fundraiser.
Twenty-six years ago, the Mendocino Music Festival was invited to hold its first season on the Mendocino Headlands. Every July since then, the tent concert hall has been raised next to the Ford House, under the stewardship of the Mendocino Area Parks Association. MAPA and MMF have a close and mutually beneficial relationship, with similar missions; to inspire, enrich and educate. Both organizations contribute to the economic viability of the area by drawing thousands of visitors each year to the Mendocino Headlands. As the Festival's neighbor and host on the headlands, MAPA has always worked hand in hand with MMF, accommodating the Festival in countless ways, both seen and unseen. In turn, the Festival has supported MAPA over the years. The Festival's very character depends largely on its magnificent setting—in a park!
It's not too late! Use the DONATE CASH feature to contribute to the auction's success for both MAPA and the Festival.
Become a Sponsor
If you or your organization would like to become a sponsor please complete our simple form and we will contact you.