Big Brothers Big Sisters of Greater Kansas City and KC Magazine are teaming up again for the 10th Annual Most Wanted Auction!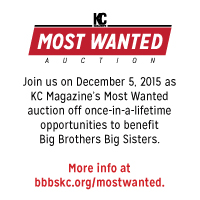 For the first time ever we will be auctioning off a number of fun and unique items online in conjunction with our live auction on December 5th to raise money for BBBSKC.
Join us as we honor KC Magazine's 2015 Most Wanted Honorees while they auction off once-in-a-lifetime auction packages live, December 5th at The Madrid Theater. The Most Wanted Auction is a high-energy party and fast-paced auction with great music, food, drinks and more! This event will sell out, so don't miss the opportunity to honor this year's class of honorees, bid on amazing live auction packages and support BBBSKC and the life-changing friendships we create.
BBBSKC - Creating Life-Changing Friendships
Serving over 1,700 youth in Kansas City each year, BBBSKC provides children facing adversity in one-to-one life-changing friendships with adult mentors. BBBSKC matches school-aged youth (Littles) from one-parent or other non-traditional homes, with caring, adult volunteers (Bigs). Statistically, children growing up in one-parent homes experience significant increased risk, particularly in the areas of education, illegal activity, and suicide. BBBSKC believes that youth who have a positive adult influence in his or her life are better able to reach their full potential. BBBSKC offers at-risk children a long-term developmental relationship with a caring adult. Bigs serve as friends, mentors and role models, helping youth gain greater self-confidence and leadership skills. This model has been proven effective in changing the self-image of the child and therefore his or her behavior. There are currently 465 kids waiting for a Big Brother, Big Sister or Big Couple in Kansas City.
Purchase Most Wanted Auction Tickets
Meet This Year's Most Wanted Honorees
THANK YOU TO OUR SPONSORS