Today is the Last Day to Bid!
NRWA 2022 Holiday Online Auction Ends at 1:00 p.m., Friday December 2, 2022!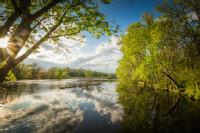 Time to plan your final bidding strategy and place your bids! We hope you can watch the close at 1:00 p.m. If you won't be available, be sure to use the auto bidding feature to preset your top bid. Note, this auction offers extended bidding. At the close of the auction at 1:00 p.m., any item with ongoing active bidding will remain open for bids. Bidding will end when no new bid has been placed for 5 minutes.
Remember, all of your bids help to support the vital work of the Association, to protect our water, our land, and our communities. The NRWA is a regional leader in environmental protection, working in 32 communities in north central Massachusetts and southern New Hampshire. Learn more about our mission.
Best of luck in your bidding, and thank you!
Thank you to our 2022 Holiday Online Auction Sponsor!