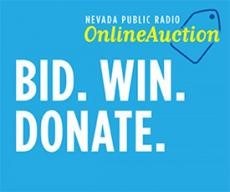 Coming Soon: Nevada Public Radio 2018 Summer Online Auction!
Join Nevada Public Radio, July 12-21, 2017, for our Summer 2018 Online Auction. Featuring the great selection of dining, staycations, getaways, shows, retail and more that you have come to expect from our bi-annual online auctions.
Remember, 100% of the proceeds are re-invested in the radio you love!
Donate an Item:
Nevada Public Radio is accepting packages to be featured in our Online Auction set for July 12-21, 2018. Donate an item and be promoted on-air and online throughout the 10-day event while helping to raise vital funds for our community service missions.
Donate online or call us at 702.258.9895 and ask for a Development Associate.
Register to Bid Now:
Don't wait until the auction starts to register to bid, you can do that now. Make sure all your information is up-to-date and be ready to bid and win as soon as the auction goes live on Thursday!
Register today! All you only need is your email address, credit card, and shipping address.
Bonus Incentive:
The first 1,000 bidders will receive a $25 gift certificate to spend with one of our partners just for bidding!
All bids qualify

If you are one of the first 1,000 bidders, you will receive a $25 gift certificate to one of our partners even if you're not a winning bidder.
Make Your Bid to Support Nevada Public Radio!
Every bid helps Nevada Public Radio fulfill its mission to provide NPR news, smart entertainment, and classical music wherever our broadcast signals are heard or wherever you are online and on the go. Even if you aren't a current listener or are out of our listening area, know your bids are supporting a vital community resource, one that has earned the trust of our community for 40 years.
A little more about us: Nevada Public Radio is a 501(c)(3) is a registered nonprofit organization based in Las Vegas, Nevada. We NPR for Southern Nevada. From St. George, Utah in the north to Barstow, California in the southwest, our mission is to serve as an independent source of information, cultural expression, and a catalyst for civic engagement. We have a deep commitment to providing high-quality local content including the nationally award-winning KNPR's State of Nevada news program and we are the publisher of the city regional magazine Desert Companion. This online auction is just one of the ways you can support Nevada Public Radio (but we think this about the most fun!) Learn more at www.npr.vegas