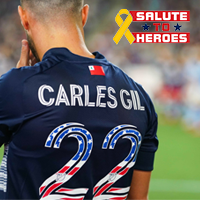 2021 Salute to Heroes Auction
With the club playing 20 years to the day since the September 11 attacks, the New England Revolution hosted our annual Salute to Heroes on September 11, 2021. The club honored the lives lost while also paying respect to our military and first responders who continue to serve and protect.
Revolution players paid homage to those who protect and serve daily while honoring those we?ve lost by adorning jerseys which featured American flag numbers on the back. The front of the jersey features a specially designed 20th remembrance patch between the adidas and Revs logos.
Now is your chance to bid on these one-of-kind Revolution jerseys with all proceeds being donated to USO New England and Tuesdays Children. These items are a must have for Revs fans and jersey enthusiasts alike!
Beneficiary Information
USO New England
USO New England is home to four USO Centers:
1. USO Logan Airport
2. USO Coast Guard Base Boston
3. USO Hanscom Air Force Base
4. USO at Boston MEPS
They provide hospitality and support at each of their centers whether it be for traveling service members, active duty military members & families, or new recruits heading to basic training.
They take care of service members & families at over 30 military commands all across New England, bringing opportunities to attend Revolution matches, special ticketed events, and VIP opportunities. USO New England also hosts events around the region to bring care, comfort, and connection to service members & their families.
Tuesdays Children
Tuesdays Children was formed in the aftermath of the terrorist attacks of Tuesday, September 11, 2001. Their commitment to those affected that day is at the core of who they are and who they serve.
As a result of that day?s events, many were called to military service, and continue still today. The goal of Tuesdays Children is to ensure that families who have suffered losses due to the events of 9/11, post-9/11 military service, or other acts of mass violence and terrorism always have a comforting place to turn to for support and community.
They serve the entire family for their entire lifetime. Whether it is for counseling and support, youth mentorship and family engagement, career guidance, healing through service and peacebuilding, or to simply reconnect with a community that shares your loss, Tuesdays Children will provide victims what they need, whenever they need it.