Donate Cash
Auction Links
Top Bidders
bw1029ef5

$8,000

snowbody

$4,200

pw7f4699c

$3,600

cf2fc284f

$3,190

ll52ee6e1

$3,000

ejc610845

$3,000

lsb5fdff6

$3,000

dw3c4cb2d

$2,050

eb71326e1

$2,001

winnawin

$1,825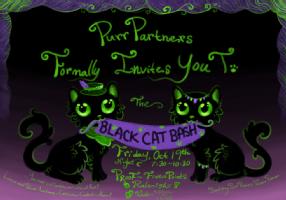 Auction Closed! Thank you for taking part!
The Purr Partners Black Cat Bash & Hurricane Relief Auction was a great success. Thank you all for taking the time to support PURR PARTNERS. Congratulations to everyone who:

placed a winning bid
generously donated an item for auction
invited family, friends and community to make their bid to build a better world
_________________________________
Auction items range from exotic vacation getaways to donated items guaranteed to delight and surprise. So, tell your friends, family, community. Let the bidding begin!
Proceeds go to PURR PARTNERS in order to support hurricane relief efforts and our Quarantine and Intake Center.
Live Event Details
Fri Oct 19, 2018
7:30 PM - 10:30 PM EDT
PROOF Five Points
1620 Glenwood Ave. Raleigh, NC 27608
Add to My Calendar
Get Directions
A frightfully fun night and an all around scary good time!
Shop auction items for you, your cats, your home. There's something for everyone - in every price range!
Hauntingly delicious food that is simply to die for…
Which coctail will you try? The Black Cat or a Purrrrr!
Win prizes in the costume contest.
Will you takes home the cauldron full of cash from the 50/50 raffle?
Freakout in the photo booth, sponsored by Lisa Corrin of Go Realty and VetsPets!
Best of all, it's for something near and dear to our hearts...CATS!
Make Your Bid to Support Purr Partners!
Now is your chance to not only get all the great items you want, but to do it knowing you are helping support our organization and mission.
Every dollar raised will help us feed, house, and provide medical care for the cats in our foster homes. At any given time, we have approximately 180 cats and kittens and we are expecting even more due to Hurricane Florence and Michael.
We are an all-volunteer, no-kill rescue, committed to providing a safe, loving home for as long as necessary. When cats are adopted out, we fill the empty space with another that is pulled from high kill shelters. All of our cats and kittens are are fully vetted, UTD on vaccines, microchipped, and spayed/neutered before they are adopted.
Funds will also help with the development of our Quarantine and Intake Center, our vision is to provide optimal care for the animals we serve and to serve as many as possible. With your generous support you help create a better world for the cats and kittens in our community.
Thank you to our auction donors!





Check out a few Auction Items!