Live Event
Wed Nov 15, 2017
6:30 PM - 10PM EST
The Courtyard Boston Downtown Marriott
275 Tremont St, Boston, MA 02116
Donate Now
Join Read to a Child on November 15th!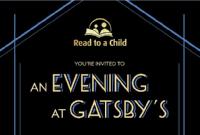 An Evening at Gatsby's
Join Read to a Child as we travel back in time to the roaring 1920s at our Annual Gala with a luxurious Great Gatsby theme. This year's celebration will feature signature cocktails, hors d'oeuvres, live and silent auctions, guest speakers and a video acceptance of The Youth Literacy Award by children's author and New England Patriot Malcolm Mitchell (the Patriots will be traveling to Mexico for a game against Oakland)! All proceeds from the Gala will support Read to a Child's Lunchtime Reading Program.
How to Purchase Tickets
This year, we are excited to be partnering with Bidding For Good for our ticket sales and silent auction. To purchase tickets, please select "Order Tickets" under the map in the right hand column. If you have used Bidding For Good in the past, simply sign in to your existing account. If you are a new user, please select "Register" and complete the "Bidder Registration" page. This will allow you to purchase tickets and participate in our online silent auction, if you wish. Any questions concerning ticket sales and the online silent auction can be directed to lizzy.dugan@readtoachild.org.
About Read to a Child
Read to a Child is a national literacy and mentoring non-profit that inspires caring adults to read aloud regularly to underserved children to create better opportunities for the child's future. Research shows that reading aloud to children is the single most important activity for eventual success in reading, a key factor for success in school, work, and life. When an adult reads aloud to a child, both parties have a joyful, rewarding experience that instills a love of reading, improves literacy skills, and enhances a child's self-confidence. Read to a Child's Lunchtime Reading Program utilizes more than 1,700 volunteer mentors from over 125 socially-minded organizations who read one-on-one to more than 1,300 at-risk elementary school students in Greater Boston, Connecticut, Detroit, Los Angeles, and Miami.
Thank You To Our Presenting Sponsors!