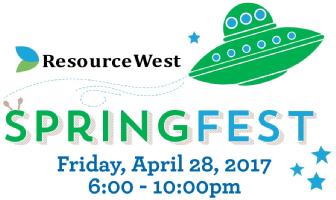 Join us for an out of this world experience!
Buy your tickets below to attend ResourceWest's Annual Fundraiser and Celebration. By entering your billing and contact information now, you will have a smooth bidding and checkout process the night of our event.
If you are purchasing a full table for 8 people, please consider paying with a check directly to ResourceWest, rather than with a credit card through this website. This will avoid paying online processing fees. Please email Stefan Dudziak, ResourceWest Program Coordinator, at stefan@resourcewest.org with any questions or to reserve your table.
Thanks for your support!
Live Event Details
Fri Apr 28, 2017
6PM - 10PM CDT
Minnetonka Community Center
14600 Minnetonka Blvd. Minnetonka, MN 55345
Add to My Calendar
Get Directions
DJ Josh Barnd will be spinning music from here on earth

Complimentary beer and wine from local vendors

Heavenly appetizers and dinner buffet

Silent and live auctions

Chance to win $1000, $500, or $250

(with $20 raffle ticket)
$50 per person – or reserve a table for 8!
ResourceWest is looking forward to the future at this year's annual celebration, "SpringFest": a banquet, silent/live auction fundraiser, and a great party! Our theme in 2017 is Spring Into the Future, where together we will be: "Boldy going where no non-profit has gone before" as we celebrate the great work of the past year and build support to maintain our presence in the community for years to come. Please join us Friday, April 28 at the Minnetonka Community Center for an out of this world experience.
Note: Though it may take a few minutes right now to input your billing information, it will make your check out process rocket-speed at the event if you choose to participate in our live and silent auctions.
Partake in a heavenly buffet from Deli Double Catering
Appetizer Buffet
Bruschetta on Toasted Crostini




Artisan Cheeses including sliced & cubed cheeses, Boursin, Sundried Tomato/Pesto & Curry-Honey Apricot Tortas, Olive Tapenade, Grecian Hummus

Served with toasted pita triangles, herb & variety crackers
Dinner Buffet
Entree:
Hand Formed Wild Rice Stuffed Chicken Breast topped with Bordelaise Sauce

Vegetarian pan seared Tempeh with Vegetarian Bordelaise sauce
Accompaniments:
Parsley Buttered Red Potatoes

Spring Field Green Salad w/ carrot & cabbage, red onion, blueberries, feta, lightly tossed in Honey-White Balsamic dressing

Variety fresh baked rolls & butter
Dessert
Petite Dessert Selection
Including: Caramel, Pecan, Nut Goodie, Lemon Bars, Mint Brownies, Mini Cheesecakes, Mini Carrot Cakes w/Cream Cheese Frosting, Chocolate Dipped Strawberries